21 Days To Fix It Challenge!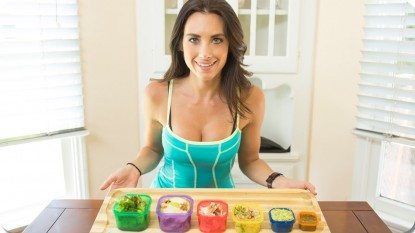 Your 21 Days To Fix It Challenge…
As I recently started the 21-Day Fix workout program, I must say I'm falling in love with this whole concept of food-container eating. Sure, I felt silly cutting up my steak and filling the red container, and just felt my husband laughing at me, (which he didn't btw. In fact, I said, "Don't laugh at me as I fill my containers...I'm having fun." What did he say? "I would never laugh at you. I'm happy that you're doing something you're enjoying." Awwwww!!) I'm TOTALLY loving this whole container system. Why wasn't this invented sooner? It's completely genius! And it really helps with portion control, I'm not starving, and in fact, I don't even finish my food! This is like nothing I've ever done. This is such a simple concept that anyone can do it, and I want to pay this forward. I'm looking for a group of 10 ladies to take part in this 21 Days To Fix It Challenge . This group is for people READY to change, that are READY for results!!! We will focus on portion control, clean eating with color-coded food containers, and 30 minute workouts. Before people come jumping with excitement for this, I need some ladies who are REALLY READY to commit for 21 days. Are you ready for that push? Are you ready to finally start making YOU the priority? Stop putting yourself on the back burner and make this YOUR time to finally get those results you've been wanting! If you are interested, please comment with, "I'm Interested,"and we can chat about what goals you hope to achieve. I'm looking forward to getting to know more about you!
The Workouts:
The Fix has a different 30-minute workout for each day of the week, all perfectly designed to keep your body moving while helping to keep you injury-free. And if you're looking for more dramatic results, research shows that your resting metabolic rate is elevated for several hours after exercise. So for an added results kick, the Fix has an optional doubles week, to be utilized from Days 15-21. This second workout, to be done at a different time of day, will help rev your metabolism, burn more calories, and bring you closer to reaching your goal. Workouts include upper and lower body workouts, pilates, yoga, cardio, and weight training.
The Food Containers:
The key to success with the 21-Day Fix is to think inside the box (specifically inside the 7 color-coded containers). For the next 21 days, and potentially beyond, you'll be using these containers to portion and transport your meals. No need to count calories or squint at kitchen scales. With these containers, figuring out what to eat each day is a breeze.
The Nutrition Guide:
There are four calorie ranges to choose from. Each range is designed to meet individual needs. So once you've discovered your calorie range, you do not need to count calories; you just need to fill your containers according to the chart provided as many times as you need during the day. You are provided with a food list so that there is no guesswork when it comes to filling these cute little containers. You will also receive some yummy recipes to choose from, Shakeology recipes, spice mix recipes for meats, and even a restaurant guide if you happen to be out and about. While this program teaches you to eat clean, you are still allowed to have some small treats. That's exciting news! So there are a couple treat recipes to choose from as well.
Shakeology:
Shakeology is a fast, delicious way to stack up on vital nutrients, including antioxidants, phytonutrients, a full spectrum of vitamins and minerals, prebiotics and enzymes for better digestive health, and 15 grams of protein, all in a mere 140 calories without all the chemicals and additives. Working out with 21-Day Fix requires serious nutrition. This makes Shakeology a perfect choice. Unlike any other shake out there, Shakeology contains the most potent superfoods and essential nutrients available. It's 70-plus ingredients are derived from whole-food sources, all-natural food your body can easily absorb and utilize. Your nutrient-dense shake (aka the healthiest meal of the day) comes in 6 flavors: chocolate, vegan chocolate, greenberry, vanilla, strawberry, and vegan tropical strawberry. This meal replacement shake assists with weight loss, provides natural energy, helps to regulate your body, and provides all the nutrients that your body lacks throughout the day.