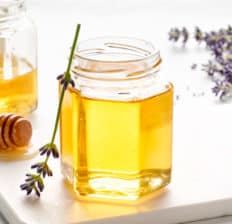 Natural Remedy For Burns
When my kiddo burned herself on hot water, our first instint is what type of natural remedy for burns can we find?  My little one instantly goes to the computer and starts researching "natural remedies for burns." We found this homemade burn salve recipe which is simple and ready in just two minutes. All you need are the following three ingredients:
Lavender essential oil, helps calm the inflamed injury site while disinfecting it. In fact, a study conducted on rats found that "topical application of lavender oil promoted collagen synthesis and differentiation of fibroblasts, accompanied by up-regulation of TGF-β. These data suggest that lavender oil has the potential to promote wound healing in the early phase by acceleration of formation of granulation tissue, tissue remodeling by collagen replacement and wound contraction through up-regulation of TGF-β. The beneficial effect of lavender oil on wound healing may raise the possibility of new approaches as complementary treatment besides conventional therapy."
Olive oil,  provides healthy fats and vitamin E to replenish the skin with nutrients.
Honey, provides antioxidants and rehydrates the injured area.
Simply mix the lavender oil, honey and olive oil together and put in a glass jar. To use it, slather it over the burn, and cover it the injury site with dressing or bandage. That's it!
Try this recipe, and keep it on hand … just in case!
2 ounces

 honey

2 tablespoons

 extra virgin olive oil

20

 drops lavender essential oil
Glass jar
INSTRUCTIONS
Mix all ingredients together, and spread lavishly over injury.
Cover injury site with dressing or bandage.