Posted on 05. May, 2020 in Snacks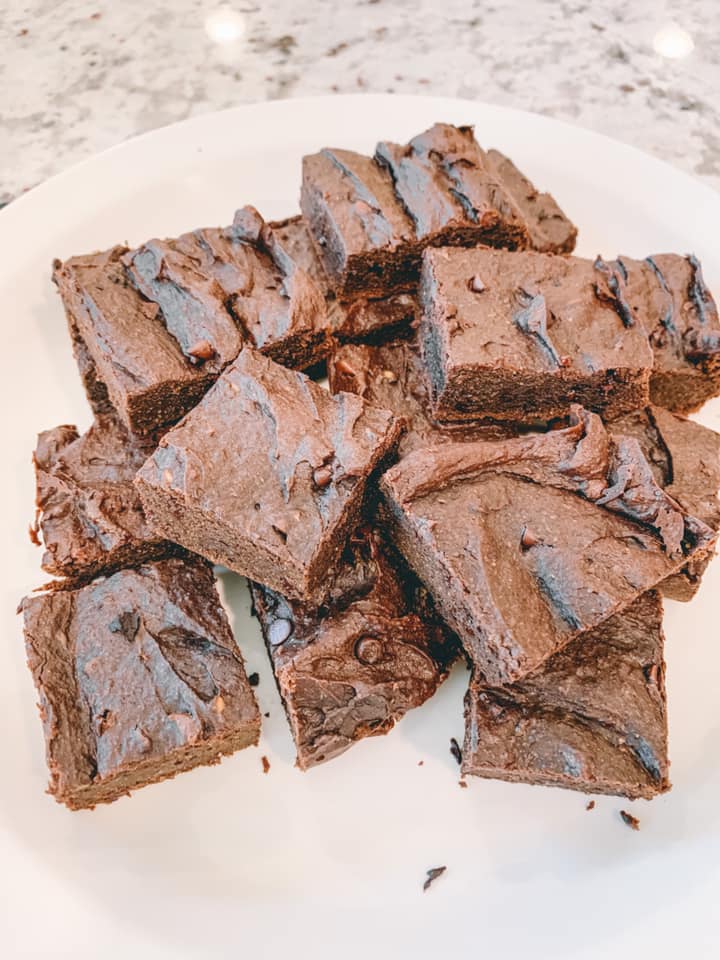 Healthier Fudge Avocado Brownies
Where are my chocoholics at?  If you have a chocolate sweet tooth, these are for you, babe!  I ran across this recipe in one of my bootcamp meal plans, saw it, and made them instantly.  These healthier fudge avocado brownies are not only kiddo approved but also free of the processed junk.  Clean ingredients makes them that much more enjoyable!  And most ingredients are staple ingredients, so you probably already have them 🙂
Ingredients:
Nonstick cooking spray
1 medium ripe avocado, mashed
1/2 cup coconut oil, melted.
1 large egg, lightly beaten
1/2 cup pure maple syrup
1 tsp pure vanilla extract
3/4 cup unsweetened cocoa powder
1/2 tsp himalayan salt
1/2 cup whole wheat flour
1/2 cup dark chocolate chips
Directions:
Preheat oven to 350 degres.
Line an 8×8 inch bakinng pan with parchment paper. Lightly coat with spray, set aside.
Combine avocado, oil, egg, maple syrup and extract in a medium bowl; mix well. Set aside.
Combine cocoa powder, salt, and flour in a medium bowl; mix well.
Add cocoa powder mixture to avocado mixture; mix well.
Add chocolate chips; mix until blended.
Pour batter into prepared pan; spread to make even.
Bake for 33-36 minutes, or until toothpick inserted in center comes out clean.
Cool for an hour before removing from pan.  Cut into 16 squares.
Enjoy!